Conference Proceedings (EI Indexing)
Deadline: Nov. 20, 2021
Papers submitted to ICCE 2021 be reviewed by technical committees of the conference. All accepted full papers will be published to the Conference Proceedings of ICCE 2021, and will be submitted to EI Compendex, Scopus and Inspec for indexing.
Journal (SCI Indexing)
◆ Sustainability, ISSN: 2071-1050, IF: 3.251.

◆ Advances in Civil Engineering, ISSN: 1687-8086, IF=1.104.

◆ CIVIL ENGINEERING AND ENVIRONMENTAL SYSTEMS, ISSN: 1028-6608, IF: 1.394.
◆ Engineering Construction and Architectural Management, ISSN: 0969-9988, IF: 1.561. (special issue)
◆ Russian Geology and Geophysics, ISSN: 1068-7971, IF: 1.061. (special issue)
Note:
1) Papers submitted to the conference should be in English.
2) Both Abstract and Full Paper are welcomed. The author can make an oral presentation after the Abstract is accepted and the payment is finished.
3) All submitted articles should report original, previously unpublished research results, experimental or theoretical. Articles submitted to the conference should meet these criteria and must not be under consideration for publication elsewhere. We firmly believe that ethical conduct is the most essential virtual of any academic. Hence any act of plagiarism is a totally unacceptable academic misconduct and cannot be tolerated.
附:近三届会议EI检索记录
ICCE2020会议论文集(与ESCE2021合辑出版)EI检索记录: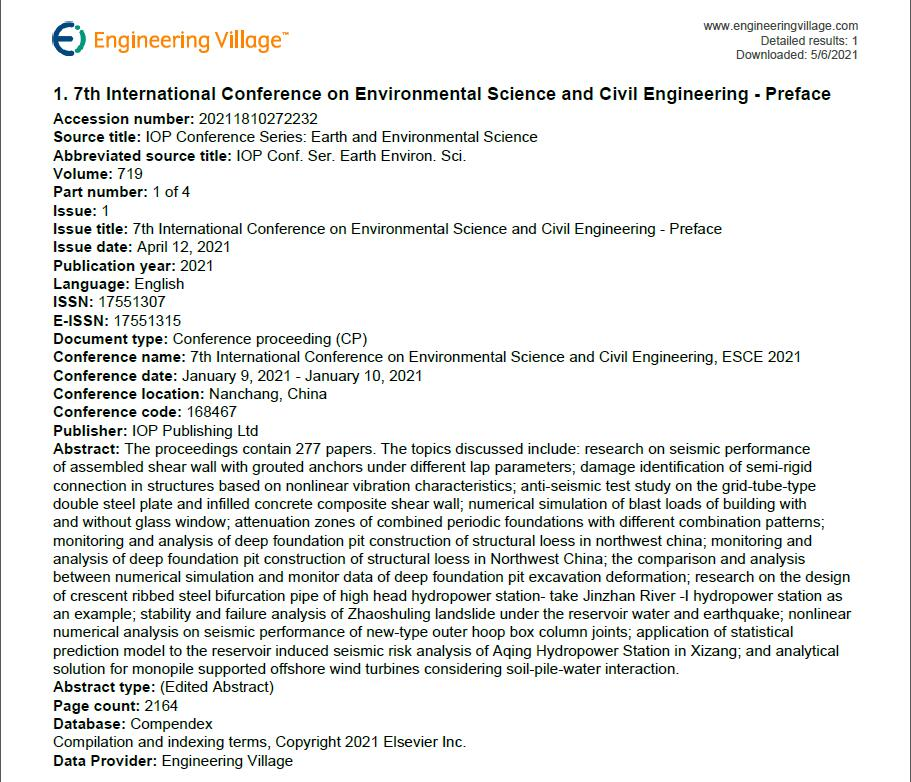 ICCE2019会议论文集(与ESCE2020合辑出版)EI检索记录: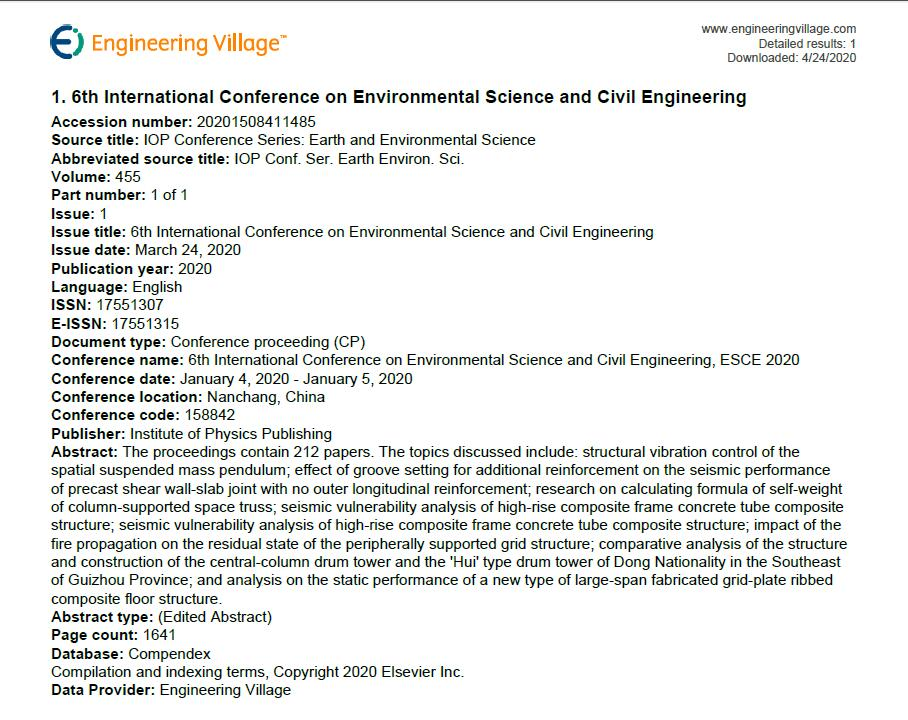 ICCE2018会议论文集(与ESCE2019合辑出版)EI检索记录: